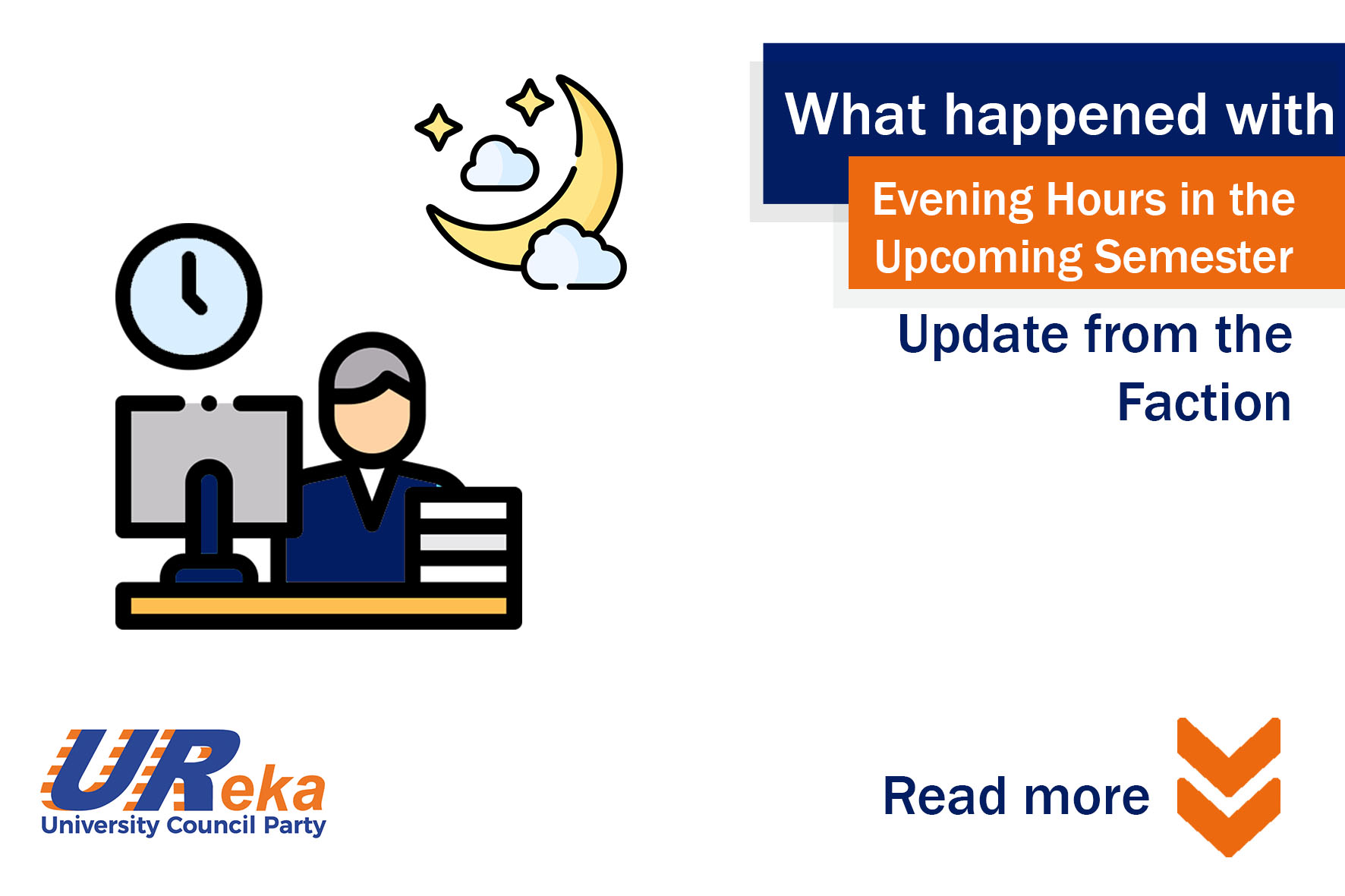 Towards the end of the third cycle of the year 20/21 the executive board brought up that the scheduling department was facing difficulties with arranging physical exams and lectures in the given time frames and facilities. The reason for the problem came from the concerns of students about participating in physical activities with big group sizes. Even though the maximum group size of the activities was within the government measures, the board wanted to acknowledge the concerns of the students and make smaller groups to make them feel saver.
In order to make this possible, the board and scheduling department suggested upping the maximum number of evening activities to 2 per week.
When the problem was brought up within the council. The UReka faction asked students via a survey what their opinion was on this. Based on the results they could conclude that:
Most students don't prefer evening lectures above online lectures.

Most students prefer physical exams above digital exams (with proctoring included).

The most preferred scenario is to do more lectures online if needed, to allow physical exams during the day.
In discussions with the executive board the faction represented the student perspective and voiced the concerns about the impact on student well-being, the lack of explored alternative solutions, and more evening activities in the future.
The board argued that this is the only feasible solution and that they are aiming at having this as the very last resort. The council has already agreed upon a priority list regarding physical activities, where physical exams are top priority. They committed to strive for 0% evening lectures.
What is gonna happen next?
The council asked the board to commit to the following conditions:
During the regular learning period,

the number of evening lectures be minimized as much as possible and options such as online lectures, recording evening lectures, and hybrid lectures be used instead.

During the examination period,

 lectures be moved online or into the evening so that exams can remain physical and during the day,

and evening lectures will be reduced to a minimum or not be used at all.
In about two months there will be a re-evaluation moment to look back on the impact.